Video Game Consoles
Video games are available in a number of versions. For home use, popular models include the Nintendo Wii, the Sony PlayStation and the Microsoft Xbox.
Nintendo Wii
The Nintendo Wii was introduced to the buying public several years ago. Before the launch, it was referred to by a code name ("Revolution"). The renamed product used two "ii's" to show prospective customers that the unit is designed to be used by two players at once.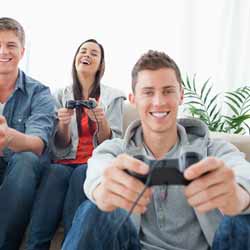 The name "Wii" is pronounced the same as "we," which further defines the product as something that can be used by everyone.
The name is easy for consumers to remember, which makes it easier for them to purchase.
A one-handed controller, called the "Wii Remote" is also available to consumers. This unit uses infrared technology to keep track of its position in 3D. The advantage for the customer is that he or she is able to use gestures to help control the game as it is being played, as well as the more traditional way of doing so, which involves pressing buttons on the handset.
The Wii controller is connected to the console using Bluetooth technology and can provide force feedback to the player. It comes with 4 KB of memory and an internal speaker. A wrist strap is available for extra security for the handset to prevent a player from accidentally throwing or dropping the device.
See Related in Members Section:
Sony PlayStation
The Sony PlayStation was also first offered to the buying public in November of 2006. The units were being sold to an eager buying public on eBay for US $2,300 and up. Demand for the new product was so intense that people were fighting over available units in stores. At least one customer was robbed at gunpoint over a PlayStation, and others reported being shot in a drive-by shooting. The criminal behavior wasn't limited solely to the public; two people working at GameStop were arrested after filing a false report of a robbery to disguise the fact that they had stolen a number of PlayStation units themselves.
Microsoft Xbox
The Xbox One is an upgraded to the Xbox 360 and it was released in November of 2013. On August 2, 2016 Microsoft launched a Xbox One S which is 40% smaller than the original Xbox One and includes a build-in power supply. The Xbox One S also is the first console that allows you to watch Blu-ray movies, and stream video in stunning 4K Ultra HD with High Dynamic Range (HDR).