Video Game Design Courses
If you are interested in training for a career in the computer and video game industry, you have a number of options available. The specific program you choose will depend on your career goals, your schedule and your budget. Available options include certificate programs, as well as ones offering an Associate's, Bachelor's or Master's degree. People who are interested in working in a supervisory or management capacity should consider continuing their education to the Master's degree level.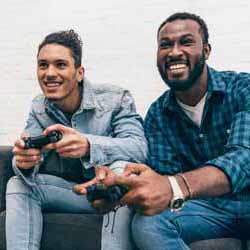 Certificate programs in Video Game Design and Development focus on this particular aspect of the industry. Students can choose to study at home at their own pace with this type of program or attend classes. On completion of the program, they would be qualified for an entry-level position with a computer or video game company. Some people who choose these types of programs are interested in gaining the knowledge needed to develop their own games.
A number of schools offer Associate's degree programs in video game design or game and applications development. Some students start their education at this level and then transfer to a Bachelor's degree program, while others enroll in the course to prepare them for entry-level positions in the industry.
At the Bachelor's degree level, there are a number of programs that give students the knowledge they need to work in various aspects of the video game industry (examples below):
At the Master's degree level, students can build on what they learned as an undergraduate. They focus their studies on a particular area and this level of education is attractive to people who want to qualify for positions where they are working as a lead on a computer or video game project.
The growing computer and video game industry has also led to several specialty schools opening their doors. These schools offer programs that include state of the art labs where students who are working on design and development projects can practice what they have learned, as well as get practice working on a project as part of a team.
Our Top 20 Video Game Colleges
University of Southern California
University of Utah
DigiPen Institute of Technology
Drexel University
Rochester Institute of Technology
Savannah College of Art and Design
Parsons The New School of Design
Massachusetts Institutre of Technology
New York University, Tisch School of the Arts
Carnegie Mellon University
University of California, Santa Cruz
Michigan State University
University of Pennsylvania
Columbia College Chicago
Full Sail University
University of Central Florida
Shawnee State University
Worcester Polytechnic Institute
Cornell University
University of California, Irvine
Before making a decision about which program is best, a prospective student should consider whether they learn best in a classroom situation or if they have the drive and discipline for distance learning. Some people decide to complete an Associate's or Bachelor's degree and continue their education while holding down a job, and this is an option worth considering.