How to Get Work in the Video Game Industry
If you are interested in working in the video game industry, some of the strategies you will use to find a job are the same as with other types of work.
First, you need to prepare a resume that tells a prospective employer about your education and experience.
Many people who are drawn to the gaming industry have been playing for years and have a real passion for this form of entertainment.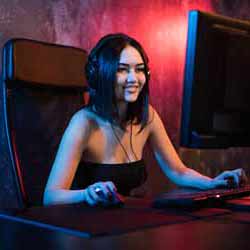 Networking is a great strategy to use when you are trying to get a job in the computer and video game industry. When you are taking courses at a trade school, college or university to prepare you for your career, take advantage of any opportunities that come up to learn about employers and available job opportunities.
If companies are holding recruiting sessions on campus, make a point of attending, even if you aren't sure that the employer is a good fit for you. Your instructors may be able to steer you in the right direction when you are looking for job leads. Offer to share what you find with your classmates if they will do the same for you. A lead that you find that you aren't interested in may be something that is exactly what one of your fellow students is looking for.
Online Resources for Computer and Video Game Job Seekers
There are online resources that can help you find jobs in the computer and video game industry as well. GameJobs.com is a job search engine with listings of current available positions. Visitors to the site can register for a free account. Once the account is open, they can upload a resume and cover letter. Account holders can also store job postings they have applied to, which makes managing their job search easier.
Job seekers also have the option of posting a resume anonymously. Potential employers can contact them to directly to discuss job openings they have available. Site visitors also have the option of searching for jobs by keyword, location, or by job type.