Breaking Into the Video Game Industry – Job Training, Education
Interview with Jessica Trybus – Etcetera Edutainment
Etcetera Edutainment has been in business since 2005. The company was founded by members of the faculty of Carnegie Mellon University's Entertainment Technology Center, along with some graduates of the program. Jessica Trybus is the CEO of Etcetera Edutainment. She has a Bachelor's degree from Cornell University, as well as a Master's degree in Entertainment Technology from Carnegie Mellon.
Ms. Trybus has a number of years of experience in the fields of business development, project management and marketing. She was worked for Viacom and AltaVista. Ms. Trybus has also worked as an assistant at Flower Films, Drew Barrymore's production company.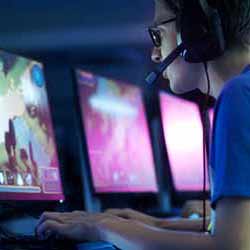 Q: Will you explain what your company does?
A: Etcetera Edutainment is involved in taking video game technology and using it to help students of all ages reach their learning goals. Our products can be used in a number of settings, including K-12 classrooms in all subjects.
We also provide products to industry. The old-style of offering safety training where new hires sit in a lecture is a passive form of learning. It simply isn't getting the message across effectively. At Etcetera Edutainment, we can offer our corporate clients a better way to train their staff. A good video game can be an effective learning tool.
Q: What kinds of computer and video game jobs do you hire people for?
A: Examples of the types of positions our company may hire for include:
Artists/Animators
Computer Scientists
Game Designers
Modelers
Project Managers
Sound Technicians
Q: What level of education are you looking for when hiring employees for these types of positions?
A: When we are hiring for positions at Etcetera Edutainment, we are looking for people who have a strong proficiency in something. For example, they may be highly skilled in computer science, game graphics, digital or traditional art.
We look for candidates with a strong undergraduate degree or a Master's in their area of expertise. In some cases, we will consider a person who has graduated from a technical school.
Experience does count, and once a job applicant has been working in the field for a few years, they have the level of on-the-job knowledge we are looking for. Regardless of skills and experience, when someone come on board they have to believe in (and help craft) our vision.
Having technical skills alone is only a piece. We are looking for people who are good team players to join us.
Q: What skills and abilities does someone need to do well in the industry?
A: We are looking for people who have excellent communication skills. Knowing your team and being able to count on them is important. I sometimes ask job applicants whether they have ever played team sports. These kinds of activities teach important lessons about working together toward a shared goal.
Having experience playing (or willingness to play) computer and video games is also important when we are looking for candidates. A background in computer science, physics, math and art also helps.
The candidate's personality is more important than their educational background. A person with a good work ethic is always valued by our company.
Q: What advice would you give to someone considering a career in the computer and video game industry?
A: The field of using computer and video games for educational purposes is a growing one. This use of technology is going to be huge. Companies that want to offer game-based training to employees can in some cases already get the software they need for less than $100. At that price point, it is an affordable solution that is highly effective.