Portable Game Consoles
Computer and video game fans want the freedom to access their favorite pastime when they are on the move.
Portable game consoles are another way people play mobile games besides on their mobile phones. They are a popular choice for many people, who enjoy playing while on a break from work or school or while taking public transit.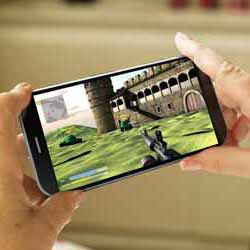 Nintendo DS
The Nintendo DS unit comes with two screens, and users can use a local wireless network to play games with friends in the same room. Owners who have wireless Internet access can expand their playing options to opponents from around the world using the Nintendo Wi-Fi Connection.
This comes with a built-in microphone, and some games respond to spoken commands. A stylus pen is included with the product. It can be used for game play, as well as for the PictoChat feature, which allows users to send drawings and messages to their friends.
The Nintendo DS gaming system also has a browser, a sound application for users to record their own voice, and a camera. Users can also download a number of games from the Nintendo DSI Service.
Sony PSP
The Sony PSP is a portable system that is billed as offering "games and entertainment in the palm of your hand." Consumers who choose this portable gaming system can choose from hundreds of games developed specifically for this product and available for downloading at an additional charge. The PSP also allows users to play games online.
The PSP can also be used to upload music and photos. This system can also play movies and TV programs with the push of a button. With its WiFi connection, a PSP owner can download new games, surf the Internet or talk on Skype.
Pandora
The Pandora is a newcomer to the handheld console gaming market. This is a portable gaming PC that will also offer users the capability to browse the Internet, chat, play music, see images and view text documents. This unit also allows users to edit their documents.
This product features a QWERTY keyboard and a resistive touchscreen. New games and applications for this product are being released regularly. The manufacturer of this product is attempting to target hobbyist gamers and those who enjoy retro games.