Video Game Designer Jobs
A person who wants to work as a designer in the computer and video game industry must have a good understanding of game programming, as well as graphic design.
This position involves working as part of a team that includes programmers, other designers and marketing staff. The game designer can never lose track of the end user and the kind of experience they would like to have while playing.
The game designer must always make sure that they have the "fun factor" covered when it comes to computer and video games. Most people who become game designers have been playing games for years. Over that time, they have developed a deep understanding of what elements must be present to make a game enjoyable.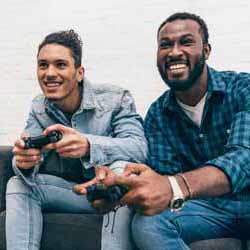 A person working in this kind of position may act as team leader to keep the other people working on the game on track. Once the initial concept has been marked out during some brainstorming sessions, the game designer's role becomes more of a coordinator's function. The person working in the position spends their time making sure that all of the team members are working together to keep the project of developing the computer or video game moving forward.
Education and Training for Game Designers
If you are interested in pursuing a career as a game designer, you have some different options to choose from. Where you should focus your education will depend on the aspect of video game design you are most interested in. Some people choose to focus on the programming part of the job and in that situation, a degree in computer science or programming gives them the background they need.
Search Video Game Designer Jobs Listings
Other people who become a game designer in the computer and video game industry are most interested in developing characters and devising plot lines for games. Taking a post-secondary program in creative writing is a good choice. Signing up for courses in computer art is always a good choice, since most of the art used in computer and video games is generated in this way.
You may also want to consider a minor in Japanese when you are looking at your education options. Many games are imported from Japan, and having a good understanding of that country's language and culture will make you a more attractive job candidate than someone who doesn't have this level of education.
In Focus: Day in the Life: Video Game Designer
Game Designer Salary
According to PayScale.com, the salary range for game designers is $33,000-$79,000 per year. Here's a little more game designer pay information: